tgn15

 

Speaker 2015 Annual Meeting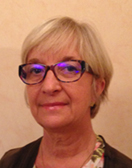 Evelyne Collin
Chief Executive & Chief Country Officer
Société Générale, India
Evelyne Collin has been appointed as CEO and Chief Country Officer of Societe Generale India with effect from January 1st, 2015. In her position, Evelyne will supervise Societe Generale's Banking and Financial Services activities in India, will steer the implementation of the Group's strategy and develop synergies in the country.

Evelyne is a graduate of Ecole des Hautes Etudes Commerciales (HEC) in Paris. She has a Diploma of Advanced Studies (DEA) in Economics of Development from the University of Paris-Sorbonne.

With extensive international experience in structured finance and risk, Evelyne has both the technical and soft skills to greatly contribute to Societe Generale' strategic development in India.