We are proud to present you

 

the speakers of The Growth Net 2013 Edition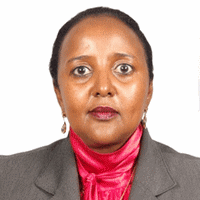 Amina Mohamed
Deputy Executive Director, United Nations Environment Programme (UNEP), Kenya
Ms. Amina Mohamed, a Kenyan national, joined UNEP as the Deputy Executive Director in July 2011, following her appointment by Secretary-General Ban Ki-moon. Before joining UNEP, Ms. Mohamed served as the Permanent Secretary and Chief Executive Officer of the Ministry of Justice, National Cohesion and Constitutional Affairs of the Republic of Kenya. Under Ms. Mohamed's leadership, the Ministry of Justice implemented political, legal and constitutional reforms following the elections in 2007. In 2010, the new Constitution of Kenya was promulgated under her Ministry's guidance and stewardship.
Before her appointment in 2006 as Permanent Secretary, Ms. Mohamed was the Ambassador and Permanent Representative of Kenya to the United Nations and other International Organizations, including WTO, in Geneva, Switzerland from 2000 to 2006. As Ambassador and Permanent Representative, Ms. Mohamed was twice elected as Chair of the African Group of the Whole in Geneva and, during her tenure, played a large number of critical roles in intergovernmental and multilateral negotiations. Ms. Mohamed was elected as Chair of the General Council of WTO in 2005, the first woman elected to the position.
Ms. Mohamed has throughout her career served her country as a distinguished public and Foreign Service Officer. As an international lawyer and accomplished diplomat with profound experience in environment and sustainable development policy setting, Ms. Mohamed also has a demonstrated track-record in intergovernmental negotiations. She has been recognized internationally for successfully leading international and national policy processes and for having assumed leadership roles working in complex and multi-cultural environments. As a diplomat and policy maker, she has been instrumental in advancing the environmental and sustainable development agenda at the national and international level. She is strategic and visionary, combined with a profound dedication to management, reform and the transformation of organizations. She has extensive knowledge of the UN-system – including serving at Kenya's Permanent Mission to the UN in New York for four years.
Ms. Mohamed's current role is to further advance the implementation of UNEP's Medium Term Strategy and Progmmme as well as on-going internal management reform. She will also play a critical role in further catalyzing UNEP's political engagement with key governments and intergovernmental processes in implementing the RIO+20 conference outcomes and support efforts to enhance the funding base of the Organization.