W

 

the speakers of The Growth Net 2013 Edition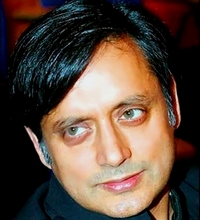 Shashi Tharoor
Union Minister of State for Human Resources Development, India
Dr. Tharoor is an internationally known speaker on India's recent transformation and future prospects, globalization, freedom of the press, human rights, literacy, Indian culture, and India's present and potential influence in world politics.
Dr. Tharoor had key responsibilities at the United Nations High Commissioner for Refugees (UNHCR) in Geneva in peace-keeping after the Cold War and as a senior adviser to the Secretary-General, as well as the United Nations Under-Secretary-General for Communications and Public Information. At the Parliament, he is also Member-Convener of the Parliamentary Forum on Disaster Management, and a member of the Standing Committee on External Affairs, the Consultative Committee on Defence, the Public Accounts Committee and the Joint Parliamentary Committee on Telecoms and has participated prominently in many of the most important debates during his tenure (Lokpal Bill, demand for grants of the Ministry of External Affairs and Ministry of Commerce and Industry, black money, copyright rules, etc.).
Prior to embarking on his political career, Shashi Tharoor also served on the Board of Overseers of the Fletcher School of Law and Diplomacy, the Board of Trustees of the Aspen Institute, and the Advisory Boards of the Indo-American Arts Council, the American India Foundation and had been appointed an International Adviser to the International Committee of the Red Cross in Geneva for the period 2008-2011. He was also a Fellow of the New York Institute of the Humanities and the Patron of the Dubai Modern School and on the Advisory Council of the Hague Institute for International Justice.
Dr. Tharoor is also the award-winning author of thirteen books, as well as hundreds of articles, op-eds and book reviews in a wide range of publications, including the New York Times, the Washington Post, the Los Angeles Times, the International Herald Tribune, Time, Newsweek and The Times of India. In January 1998, Dr. Tharoor was named a "Global Leader of Tomorrow" by the World Economic Forum in Davos, Switzerland and was the recipient of several awards, including a Commonwealth Writers' Prize, the Pravasi Bharatiya Samman, in 2004, GQ's Inspiration of the Year Award, NDTV's "New Age Politician of the Year" Award and IILM's "Distinguished Global Thinker Award". In 2010 he was named Digital Person of the Year at the first-ever Indian Digital Media Awards. In October 2012, he was awarded the Encomienda de la Real Orden Espanola de Carlos III by the King of Spain.