| | |
| --- | --- |
| | Co-Chairs of The 3rd Annual Meeting 2015 |
 
Wendy Luhabe has extensive board experience in Corporate Strategy, Marketing, Corporate Governance and Human Capital Development in both the private and public sectors. She is most known for her pioneering social enterprises, one in developing effective Human Resources Strategies for companies to improve productivity and performance and two for the economic participation of women, through a Portfolio Investment Company and a Venture Capital Equity Fund for women. She is an Author, an accomplished public speaker, thought Leader and is deeply passionate about Leadership, Mentorship and Women's development. She is currently an advisor to The Big Break Legacy, an initiative to make South Africa an Entrepreneurial nation. She is also on the Supervisory board of the IMD business school in Lausanne, Switzerland. She is a recipient of 3 honorary doctorates and a member of the International Council of Business Women Leaders initiated by Ms Hilary Clinton, on the Economic Empowerment of Women. She is married, has a Son and two grandchildren and is an aspiring harpist. She travels extensively on speaking engagements and her International board commitments.
 
Mr. Ramadorai has been in public service since February 2011 and is currently the Chairman of National Skill Development Agency (NSDA) in the rank of a Cabinet Minister. The NSDA is an autonomous body which coordinates and harmonizes the skill development efforts of the Government and the private sector to achieve the skilling targets of the nation. He is also Chairman of the National Skill Development Corporation (NSDC), a Public Private Partnership arm of the Government of India for creating large, for-profit vocational institutions. In February 2011, the Government had appointed him as the Adviser to the Prime Minister in the National Council on Skill Development, in the rank of a Cabinet Minister. This Council was subsumed into the NSDA in June 2013.
He recently retired as the Vice – Chairman of Tata Consultancy Services Ltd, a company he was associated with, for 42 years. He took charge as CEO in 1996 when the company's revenues were at $ 155 million and since then led the company through some of its most exciting phases, including its going public in 2004. In October 2009, he completed his tenure as CEO, leaving a $ 6 billion global IT services company to his successor to lead. He was then appointed Vice Chairman of TCS. Today, the company's revenues stand at US $ 13.4 billion for the year ended March 31, 2014.
Mr. Ramadorai is Chairman of the Bombay Stock Exchange (BSE Limited) and AirAsia (India) Pvt Ltd. He continues to be an Independent Director on the Boards of Hindustan Unilever Limited, Asian Paints Limited and Piramal Enterprises Limited.
Given his keen passion to work for the social sector and community initiatives, he also serves as the Chairman on the Council of Management at the National Institute of Advanced Studies (NIAS) and the Chairman of the Governing Board at the Tata Institute of Social Sciences (TISS). He is also the President of the Society for Rehabilitation of Crippled Children (SRCC) – which is building a super speciality children's hospital in Mumbai.
In recognition of Ramadorai's commitment and contributions to the IT industry, he was awarded the Padma Bhushan (India's third highest civilian honour) in January 2006. In April 2009, he was awarded the CBE (Commander of the Order of the British Empire) by Her Majesty Queen Elizabeth II for his contribution to the growth of Indo-British economic relations.
His academic credentials include a Bachelor's degree in Physics from Delhi University (India), a Bachelor of Engineering degree in Electronics and Telecommunications from the Indian Institute of Science, Bangalore (India) and a Masters degree in Computer Science from the University of California – UCLA (USA). In 1993, Ramadorai attended the Sloan School of Management's highly acclaimed Senior Executive Development Program.
Ramadorai is a well recognized global leader and technocrat who has actively participated in the Indian IT journey from its inception in 1960's to a mature industry today. Ramadorai has captured this exciting journey in a wonderfully personalized book titled 'The TCS Story…and beyond' which was published in 2011 and remained on top of the charts for several months.
Among his many interests, Ramadorai is also passionate about photography and Indian classical music.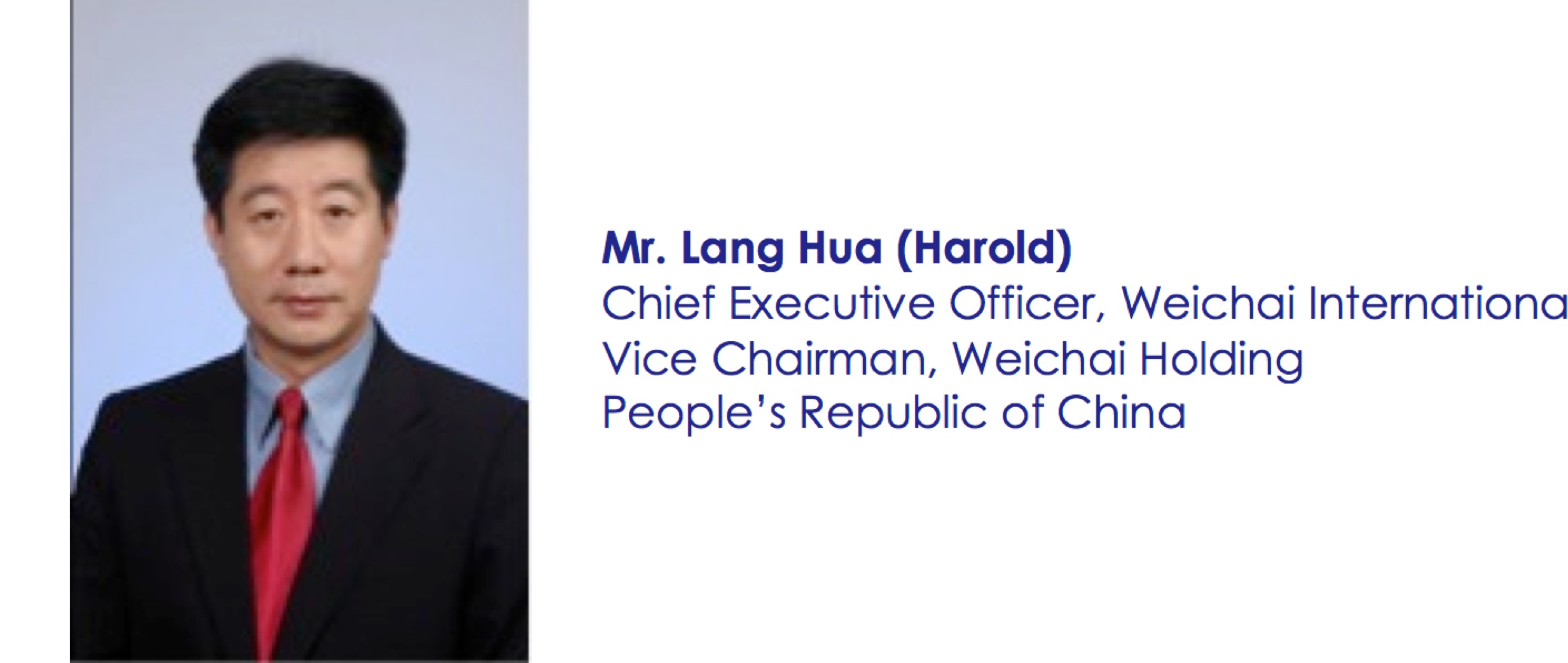 Mr. Harold Lang received Ph.D. from Massachusetts Institute of Technology and Executive MBA from Purdue University in US. He has years of leadership experiences as President of China or Asia Pacific for multinationals and was responsible for overall operations, mergers & acquisitions and strategic planning. Mr. Lang was President of China for Terex Corporation before joining Weichai.
Weichai Group is a Chinese conglomerate with a diversified business portfolio covering engines, trucks, buses, transmissions, Linde forklifts in German, Ferretti luxury yachts in Italy and Baudouin engines in France. The Group operates in over 100 countries.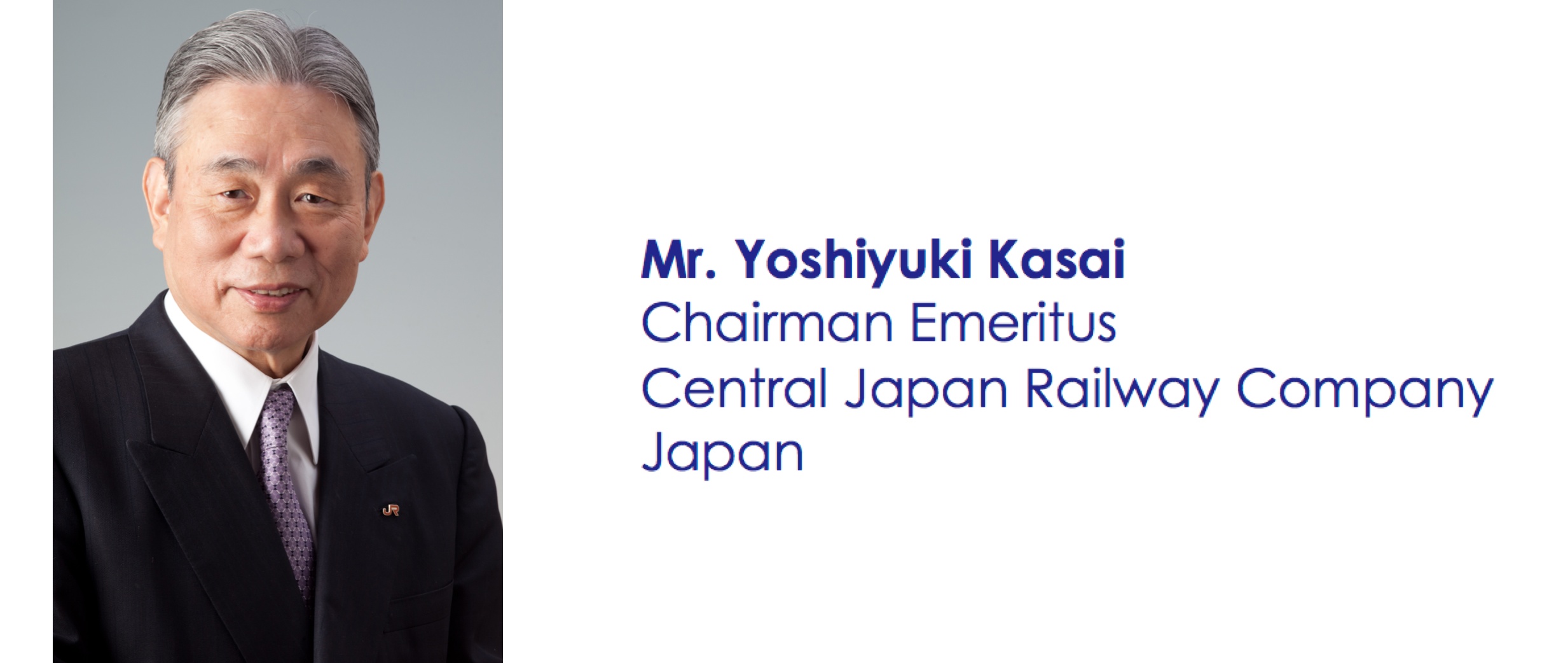 Yoshiyuki Kasai is the Chairman Emeritus and Representative Director of Central Japan Railway Company (JRC), which operates the Tokaido Shinkansen bullet train system linking Japan's principal metropolitan areas of Tokyo, Nagoya, and Osaka. JRC is also the developer of the maximum speed 581 km/h Superconducting Maglev (SCMAGLEV) System.
Mr. Kasai joined Japan National Railway (JNR) in 1963 and played a major role in JNR's reform. After the break-up and privatization of JNR, he was appointed President of JRC in 1995, Chairman in 2004, and then Chairman Emeritus in 2014. He succeeded in dramatically improving the Tokaido Shinkansen transport service by opening the new Shinagawa Station and achieving the speed-up of all Shinkansen trains to 270 km/h in 2003. JRC is now developing the Chuo Shinkansen as the bypass of Tokaido Shinkansen, by the SCMAGLEV technology.
Among his public services, Mr. Kasai is the Chairman of the "Committee on National Space Policy" and Extraordinary Commissioner of the "Fiscal System Council".
Mr. Kasai published four books including "Japanese National Railways, its Break-up and Privatization (2003)". He earned his B.L. from the University of Tokyo in 1962 and his M.S. in Economics from the University of Wisconsin-Madison in 1969. Mr. Kasai received the Grand Cordon of the Order of the Rising Sun in 2014 for his achievements in railway service and several public services.