tgn15

 

Speaker 2015 Annual Meeting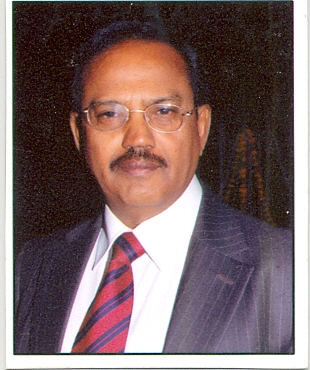 Ajit Doval
National Security Advisor
Government of India, India
Ajit Doval was born in Garhwal, Uttarakhand in 1945. He received his early education in Delhi and Ajmer and graduated with a Master's degree in Economics from the University of Agra in 1967, obtaining first position.

Doval joined the Indian Police Service (IPS) in 1968. After a short stint in his parent cadre (Kerala), he joined the Intelligence Bureau (IB) in 1972. During over three decades of his service with the IB, he held many senior positions both within and outside the country. Essentially an operations man, Doval worked for long years in the field including North-East, Sikkim, Punjab and J&K. He played an important role in termination of insurgency in Mizoram and post-merger political transformation in Sikkim. After spending over six years in Pakistan, Doval was assigned to the Operations Wing of the Intelligence Bureau. Subsequently, he was posted as a Minister in the Indian High Commission in London.

Doval headed IB's Operations Wing for long years and was founder Chairman of the Multi Agency Centre (MAC) and Joint Task Force on Intelligence (JTFI). He retired as Director Intelligence Bureau in 2005.

Ajit Doval was awarded the Kirti Chakra in 1989, one of the highest Defence gallantry awards of the country. He was also the country's youngest officer to be awarded the prestigious Indian Police Medal for Meritorious Service in six years of his service (it is normally awarded after 17 years of service), a record that he still holds. He is also a recipient of the President's Police Medal for Distinguished Service. A graduate of National Defence College, Doval was elected President of the International Association of Chiefs of the Police for Asia and Pacific region in 2004.

Post retirement, Doval has remained actively involved in the discourse on national security in India. He is the founder director of Vivekanada International Foundation (VIF), a think-tank in New Delhi mainly focusing on issues pertaining to national security and strategic studies.

Doval is National Security Adviser to the Prime Minister of India since 30 May 2014.