W

 

Speaker 2014 Annual Meeting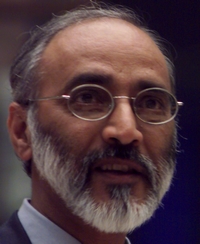 Ashok Gulati
Chair Professor-Agriculture, ICRIER
India
Ashok Gulati is Chairman of the Commission for Agricultural Costs and Prices (CACP) since 2011. Before joining CACP, Dr Gulati was Director in Asia, based in Delhi office (since March 2006), and Director of the Markets, Trade and Institutions Division (Jan 2001-Feb 2006) of the International Food Policy Research Institute headquartered in Washington D.C.
Ashok Gulati has served in both academic and policy advising capacities in India. Prior to joining IFPRI in 2001, Ashok Gulati was a NABARD Chair Professor at the Institute of Economic Growth and Chief Economist at the National Council of Applied Economic Research, India. He was also a member of the Economic Advisory Council of the Prime Minister of India; a member of the State Planning Board of Karnataka, etc.
Gulati's research focuses on the functioning and restructuring of agricultural markets; trade liberalization and its impact on producers and consumers; pricing policies and their efficiency and welfare impact; and the role of infrastructure and institutions in making markets function efficiently. He has to his credit more than 10 books ranging from "The Dragon and the Elephant" (co-edited with Shenggan Fan) to "WTO Negotiations on Agriculture and Developing Countries (with AnwarulHoda), both published by Johns Hopkins University Press and also by Oxford University Press. He has published widely in international and national journals. He is a product of the Delhi School of Economics, where he did his Masters in Economics and Ph.D. on Agriculture Price Policy.