W

 

Speaker 2014 Annual Meeting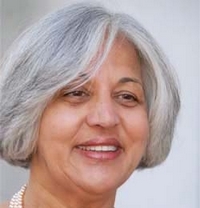 Isher Judge Ahluwalia
Chairperson, Board of Governors, Indian Council for Research on International Economic Relations (ICRIER)
India
Isher Judge Ahluwalia is Chairperson, Board of Governors, the Indian Council for Research on International Economic Relations (ICRIER). She was awarded Padma Bhushan by the President of India in the year 2009 for her services in the field of education and literature. Dr Ahluwalia was Chairperson of the High Powered Expert Committee on Urban Infrastructure and Services during 2008-2011. She is Member, National Manufacturing Competitiveness Council and is on the Boards of a number of premier research institutes in India. Dr Ahluwalia was Vice Chairperson of the Punjab State Planning Board from 2005 to 2007.
Dr Ahluwalia is a Member of the Eminent Persons Group on India-ASEAN (Association of South East Asian Nations) set up by the respective governments. She is Vice Chairperson, Global Development Network, New Delhi and Member, Board of Trustees of the International Water Management Institute, Sri Lanka. She was Chairperson, Board of Trustees of the International Food Policy Research Institute (IFPRI), Washington D.C. from 2003 to 2006, and a Member of the Eminent Persons Group (EPG) of the Asian Development Bank, which submitted its report, "Towards a New Asian Development Bank in a New Asia" in May 2008.
Dr. Ahluwalia received her B.A. from Presidency College, Calcutta University, M.A. from the Delhi School of Economics, and Ph.D. from the Massachusetts Institute of Technology (MIT), all in economics. Her research has focused on industrial development, macro-economic reforms, and issues in social sector development in India. She has contributed articles to professionally refereed journals and also engaged in policy debates through the print and electronic media. She is author/co-author/editor of several books including India's Economic Reforms and Development: Essays for Manmohan Singh (OUP), which she co-edited with Prof. I.M.D Little in 1998 and which has just been reprinted (March 2012) in an updated second edition by OUP as an Oxford India Perennial.