W

 

the speakers of The Growth Net 2013 Edition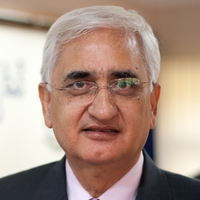 Salman Khurshid
Minister of External Affairs, India
Shri Salman Khurshid is a renowned Lawyer-Educationist-Writer-Politician hailing from a distinguished family of educationists cum national leaders who have served the country over three generations. His maternal grand father Dr Zakir Hussain was the third President of India. His father, Shri Khurshid Alam Khan, was a former Union Minister of State for External Affairs and also Governor of Goa and Karnataka.
Shri Khurshid earned his English and Law Degrees from St Stephens College, Delhi. He was also educated at St Edmund Hall, Oxford University. Shri Khurshid is an Educationist and served as President of Delhi Public School Society from 1992-2005.
Shri Khurshid has served as the President of Uttar Pradesh Congress Committee from 1998-2000 and later from 2004-08. Shri Khurshid was also OSD in the office of Late PM Smt Indira Gandhi in 1981-82.
Shri Khurshid is representing Farrukhabad Constituency in Uttar Pradesh for the second time in Lok Sabha. During his earlier term in the Lok Sabha from 1991-96, he served as the Deputy Minister of Commerce and later as the Minister of State for External Affairs. During the current term in Lok Sabha, he has held various important portfolios such as the Minister of State with independent charge of Minority Affairs and Corporate Affairs. Later, he was elevated as a Union Minister of Water Resources and Minority Affairs. In July 2011, he took over as the Union Minister of Law and Justice with additional charge of Minority Affairs. Shri Khurshid took office as the External Affairs Minister on October 28, 2012.
Shri Khurshid has a passion for writing. His acclaimed books include "Sons of Babur" (which has been made into a popular play), "At Home in India" and "If Winter Comes". His other interests include Cricket, Squash, Wildlife and Adventure and reading biographies. Shri Khurshid and his wife Smt Louise Khurshid have three sons.