tgn15

 

Speaker 2015 Annual Meeting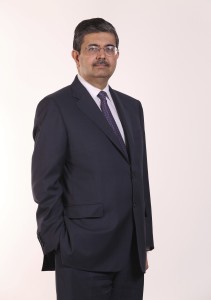 Uday Kotak
Executive Vice Chairman and Managing Director
Kotak Mahindra Bank, India
As a young 26-year old entrepreneur in 1985, Uday Kotak started Kotak Capital Management Finance Ltd. (which later became Kotak Mahindra Finance Ltd). The vision was to eventually become a banking company. Private Indian banks were not even a speck on the horizon at that time. On 22nd March 2003, Kotak Mahindra Finance Ltd. became the first non-banking financial company (NBFC) in India's corporate history to be converted into a bank.
Kotak Mahindra Bank Ltd. (KMBL) is regarded as one of the most efficient and high performing banks in India, built on the principles of simplicity and prudence. Uday remains unfazed by market euphoria and his 'basics of banking' approach has ensured that the loan book is of high quality and the bank is well capitalised. In a journey spanning nearly three decades, Uday has not only helped the company grow to this scale but also earn respect.
Today, Kotak Mahindra Group, a first generation enterprise, with revenue of US$ 2.8 billion, has a global presence, employs over 30,000 people and is recognised as one of the topmost employers in India. The group has the distinction of providing a 48% CAGR to its shareholders over a 29 year period. The core of the business model is 'concentrated India, diversified financial services'.
Uday has a strong focus on community development and inclusive growth which is reflected by the Group's initiatives to provide low cost services to rural customers and its welfare programmes. Uday feels strongly that education is key to the alleviation of the social malaise afflicting India's under-privileged. In a bid to address this issue, he has established the Kotak Education Foundation that focuses on the educational needs of underprivileged children.
Uday holds a Bachelor's degree in Commerce and an MBA from Jamnalal Bajaj Institute of Management Studies, Mumbai.