W

 

Speaker 2014 Annual Meeting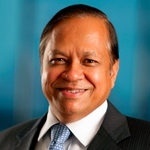 Sri Prakash Lohia
Chairman, Indorama Ventures Public Company Ltd.
Thailand
Mr. Sri Prakash Lohia (60), Group Chairman, Indorama Group, started the first manufacturing plant of Indorama Group in 1976 in Indonesia and is the key driving force in Indorama's global growth which now encompasses 40 manufacturing sites in 22 countries in 4 continents around the world.
Indorama is the world's largest Polyester producer, world's largest PET Resin producer, Africa's 2nd largest producer of Polyolefins and the world's 7th largest producer of PTA.
He is the President Commissioner of PT Indo-Rama Synthetics Tbk, the Group's first listed company and also the Chairman of Indorama Ventures Public Company Limited, Thailand, the flagship company of the Group with a current market capitalisation of over US$ 4 billion.
He is also a key member of prominent organizations in Indonesia – APINDO (Employers Association of Indonesia), APSYFI (Association of Indonesian Synthetic Fiber Producers), API (Indonesian Textile Association) and India Indonesia Chamber of Commerce. He is a citizen of Indonesia (of Indian origin) and a Commerce Graduate with over 39 years of industrial experience.