W

 

Speaker 2014 Annual Meeting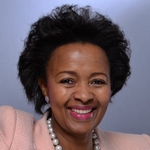 Wendy Luhabe,
Co-Chair 2014


Founder & Chairman, Women Private Equity Fund
South Africa
Wendy Luhabe has extensive board experience in Corporate Strategy, Marketing, Corporate Governance and Human Capital Development in both the private and public sectors. She is most known for her pioneering social enterprises, one in developing effective Human Resources Strategies for companies to improve productivity and performance and two for the economic participation of women, through a Portfolio Investment Company and a Venture Capital Equity Fund for women. She is an Author, an accomplished public speaker, thought Leader and is deeply passionate about Leadership, Mentorship and Women's development.
She is currently an advisor to The Big Break Legacy, an initiative to make South Africa an Entrepreneurial nation. She is also on the Supervisory board of the IMD business school in Lausanne, Switzerland. She is a recipient of 3 honorary doctorates and a member of the International Council of Business Women Leaders initiated by Ms Hilary Clinton, on the Economic Empowerment of Women. She is married, has a Son and two grandchildren and is an aspiring harpist. She travels extensively on speaking engagements and her International board commitments.