W

 

Speaker 2014 Annual Meeting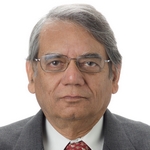 Rakesh Mohan
Executive Director, International Monetary Fund (IMF)
Washington D.C.
Dr.Rakesh Mohan is Executive Director at the International Monetary Fund, Washington, D.C., USA representing India, Sri Lanka, Bangladesh and Bhutan since 1st November, 2012. Until recently, Dr.Rakesh Mohan was also Chairman, National Transport Development Policy Committee, Government of India, in the rank of a Minister of State. In addition, he is Vice-Chairman, Indian Institute of Human Settlements, proposed to be India´s first independently funded and managed inter-disciplinary National University for Research and Innovation. He is also Non Resident Senior Research Fellow of Stanford Centre for International Development, Stanford University Stanford. Prior to his current position at the IMF, Dr.Mohan was Professor in the Practice of International Economics of Finance, School of Management, and Senior Fellow, Jackson Institute of Global Affairs, Yale University from July 2010. He taught every Fall Semester there. Dr.Mohan, who holds a B.Sc in Electrical Engineering from Imperial College, University of London, a B.A. from Yale University and a Ph. D in Economics from Princeton, had earlier held the position of Deputy Governor of the Reserve Bank of India September 9, 2002 to October 31, 2004 and July 2, 2005 to June 10, 2009. During the period 31 October 2004 to 2nd July, 2005, he was Secretary, Department of Economic Affairs, Ministry of Finance, Government of India. He has held several positions in Government of India and was Chief Economic Advisor, Ministry of Finance, Government of India in 2001-02.