W

 

the speakers of The Growth Net 2013 Edition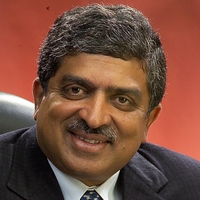 Nandan Nilekani
Chairman, Unique Identification Authority of India (UIDAI), India
Nandan Nilekani is currently the Chairman of the Unique Identification Authority of India (UIDAI)—which aims to provide a unique identification number for all residents of India—in the rank and status of a Cabinet Minister. Nandan Nilekani was most recently the co-chairman of the board of directors of Infosys Technologies Limited, which he co-founded in 1981. Serving as director on the company's board since its inception to July 2009, he has held various posts at Infosys, including chief executive officer and managing director, president, and chief operating officer.
Nilekani co-founded India's National Association of Software and Service Companies (NASSCOM) as well as the Bengaluru chapter of The IndUS Entrepreneurs (TiE). He is a member of the board of governors of the Indian Council for Research on International Economic Relations (ICRIER) and the president of NCAER (the premier, independent, applied economics research institute in India).
Born in Bengaluru, Nilekani received his bachelor's degree in electrical engineering from the Indian Institute of Technology, Mumbai. He was named the Corporate Citizen of the Year at the Asia Business Leaders Award (2004) organized by CNBC. In 2005 he received the prestigious Joseph Schumpeter prize for innovative services in economy, economic sciences and politics.
He was awarded one of India's highest civilian honours, the Padma Bhushan, in 2006. In 2006 he was also named Businessman of the Year by Forbes Asia. Time magazine listed him as one of the 100 most influential people in the world in 2006 and 2009.