W

 

Speaker 2014 Annual Meeting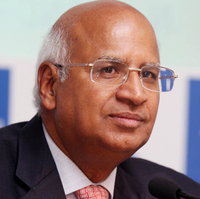 S. Ramadorai,
Co-Chair 2014


Vice Chairman, Tata Consultancy Services
Advisor to the Prime Minister of India
India
Mr. S. Ramadorai is Vice Chairman of Tata Consultancy Services, a company he has been associated with for the past 39 years. He took over as CEO in 1996 when the company's revenue was $160 million and has since then led the company through some of its most exciting phases, including its going public in 2004. In October 2009, he stepped down as CEO, leaving a $6 billion global IT services company to his successor, while he took over the mantle of Vice Chairmanship of the company. Today, the company's revenue stands at $10.17 billion for the fiscal year ended March 31, 2012, with an employee base of over 238,583 IT consultants in 42 countries. Mr. Ramadorai is also the Chairman of Tata Elxsi Ltd, Tata Technologies Ltd, CMC Ltd and CRL Ltd and sits on the boards of a number of non-Tata companies and educational institutions – Tata Industries, Hindustan Unilever Limited, Bombay Stock Exchange and the MIT Sloan School of Management (EMSAB). In February 2011, S. Ramadorai stepped into public service when the Indian Government appointed him as the Advisor to the Prime Minister in the National Skill Development Council, in the rank of Cabinet Minister. The Council, which is headed by the Prime Minister, seeks to develop a strategy for skill development at the national level with a view to address the skill deficit.