W

 

Speaker 2014 Annual Meeting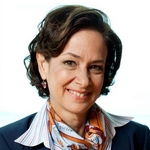 Lisa Robins
Head Global Transactions Banking Asia Pacific, Deutsche Bank
Germany
Lisa Robins is a Managing Director at Deutsche Bank and Head of Global Transaction Banking, Asia Pacific, based in Singapore. She is responsible for the bank's commercial banking activities including cash management, trade finance, securities and trust services in Asia Pacific.
Ms. Robins' banking career spans over 25 years, during which she held various senior leadership roles in J.P. Morgan across Europe, United States and Asia. Before joining Deutsche Bank, she was Managing Director, Vice Chairman for Treasury and Security Services for J.P. Morgan China. Prior to that, she ran a subsidiary of the Louis Dreyfus Corporation in Beijing which focused on consulting and trading.
Before moving to Singapore, Ms. Robins was on the Board of Directors of the American Chamber of Commerce in China. She was named 'Transaction Banker of the Year Award' by The Asian Banker in 2013, a leading consultancy in financial services research, benchmarking and leadership of the financial industry. In 2011, Finance Asia also ranked Ms Robins as one of Top 20 Women in Finance. Ms. Robins is also an active proponent of developing women and diversity.
Ms. Robins holds a Master of Arts from Stanford University, and graduated with honours in Asian Studies from Tufts University. She also studied Mandarin at Taiwan Normal University and Taipei Daily Language News School. She speaks Mandarin and French. Ms. Robins and her husband currently live in Singapore; their daughter lives in the U.S. Her interests include Indian and Chinese art, drawing, travel and reading.