W

 

Speaker 2015 Annual Meeting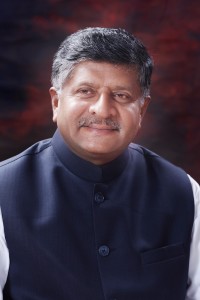 Ravi Shankar Prasad
Minister of Communications and Information Technology
Government of India
OMr Prasad is the Minister of Communications & Information Technology, Government of India. He is a well-known Parliamentarian and also a very well-known lawyer. As a Senior Advocate, he appeared in Supreme Court and High Court in diverse branches of Law. He has held national level assignments in the youth wing and the main party organisation of the BJP over the years. He became an MP in 2000 and became a Minister of State (Coal & Mines) in 2001 under Shri A B Vajpayee as PM
Shri Prasad was given the additional charge of the Minister of State in the Ministry of Law & Justice on 01-07-2002 within a fortnight of his joining.
As Minister of Information & Broadcasting, he initiated far reaching reforms to make India the hub of entertainment. This included venture capital investment and good marketing of Indian Films, reforms in the Radio, Television and Animation Sector and establishment of Goa as the Centre of Indian Film Festival. He laid the foundation for the FM Radio revolution. His views are often sought on issues of topical interest and he frequently appeared on the television on international and Indian channels.
He became National Spokesperson of BJP in 2006 and has been re-elected again to the Parliament (Rajya Sabha) from Bihar in April 2006 for the second term and in April 2012 for the third term. He is also the member of BJP National Executive, the top policy making body for last 19 years. He is also Member of various Parliamentary Committees. Between year 2010 – Feb 2013, he was made the All India General Secretary and Chief Spokesperson of the Party and In-charge of its Media Cell.
A widely traveled man he was given critical assignments in foreign affairs as well. In April 2002, he was sent as the leader of Indian Delegation in the Non Aligned Ministerial meet in Durban (South Africa).