W

 

Speaker 2014 Annual Meeting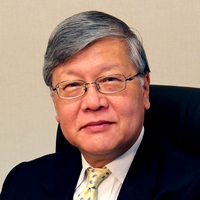 Andrew Sheng
President, Fung Global Institute and Adjunct Professor Tsinghua University & University of Malaya
Malaysia
Andrew Sheng is well known in global financial circles as a former central banker and financial regulator in Asia and a commentator on global finance. As the Institute's President, Andrew is responsible for its operations and, with the support and advice of the Academic Council, for driving its research agenda and thought leadership.
He is also the Chief Adviser to the China Banking Regulatory Commission and a Board Member of Khazanah Nasional Berhad, Malaysia. In addition, he serves as a member of the International Advisory Council of the China Investment Corporation, the China Development Bank, the Advisory Council on Shanghai as an International Financial Centre and the International Council of the Freie University, Berlin. He is also an Adjunct Professor at the Graduate School of Economics and Management, Tsinghua University, Beijing and the University of Malaya, Kuala Lumpur.
In 2009, he became the Pro-Chancellor of Universiti Tun Abdul Razak. Andrew served as Chairman of the Securities and Futures Commission of Hong Kong from 1998 to 2005, having previously been a central banker with the Hong Kong Monetary Authority and Bank Negara Malaysia. He also worked with the World Bank from 1989 to 1993. From 2003 to 2005, he chaired the Technical Committee of the International Organisation of Securities Commissions (IOSCO).
He has published widely on monetary, economics and financial issues. His most recent book is entitled From Asian to global financial crisis: an Asian regulator's view of unfettered finance in the 1990s and 2000s. He is also a regular contributor to leading economic magazines and newspapers in China and the Asian region. A chartered accountant by training, he has a BSc. in Economics and an honorary doctorate from the University of Bristol.
_____________________________________________________________
The Fung Global Institute generates and disseminates innovative thinking and business-relevant research on global issues from Asian perspectives. It aims to inform global policy and actions towards a prosperous and sustainable future for all. A rapidly changing, inter-dependent world demands new thinking on global issues to take account of the full implications of Asia's growing share of the global economy. With this expanded framework of analysis, the Institute provides resources for business leaders as well as policymakers and civil society to develop the perspectives and tools needed to navigate through this era of transformation.