W

 

Speaker 2015 Annual Meeting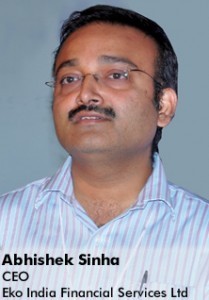 Abhishek Sinha
Co-Founder & Chief Executive Officer, EKO Financial Services, India
Abhishek is Co-founder & CEO of Eko India Financial Services Private Limited.
An entrepreneur at heart, in 2002, he co-founded 6d Telecom Solutions, a telecom value added services company. He exited 6d in early 2007 to co-found Eko. He holds a Bachelor of Engineering degree in Electronics and Communication Engineering from Birla Institute of Technology in India.
Eko has been in the mobile money space in India since 2007. We saw a problem of not using mobile phones for doing electronic checkouts and transactions in spite of close to a billion mobile customers. Also customers and merchants were engaging on unsecure channels (including social media, messaging and productive application) and had to shift to a different channel for transactions.
We saw this as a unique gap to fill and have created a patent-filed technology that enables us to do secure transactions on unsecure channels. This opens up a market of doing 30 billion transactions and processing over US$ 300 billion. This technology makes us the only company in the world to enable absolutely any mobile phone, including ultra low-cost phones, to do secure financial transactions without installing any app on the phone or SIM.
Through its Business Correspondent (BC) and soon to be launched Prepaid Payment Instrument (PPI) wallet, Eko provides its customers with basic banking, savings and payment services, along with merchant transactions, bill payment, and cash collection services. In this journey so far, Eko has served over 4 million customers by securely processing Rs 14,000 Crore of transaction value across 35 million transactions in partnership with leading banks including State Bank of India, ICICI Bank, Yes Bank and IndusInd Bank.
Eko has received grant from Bill & Melinda Gates Foundation and CGAP besides funding from USA based Private Equity Fund Creation Investments.