W

 

Speaker 2015 Annual Meeting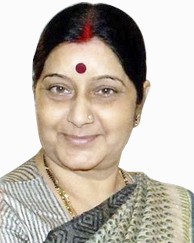 Sushma Swaraj
Minister of External Affairs
Government of India
Sushma Swaraj, External Affairs Minister of India, was born on 14 February 1952 in Ambala, Haryana. She has been elected seven times as a Member of Parliament and three times as a Member of the Legislative Assembly. She is an Advocate by profession and educated at S.D.College, Ambala Cantt (Haryana) and Department of Laws, Panjab University, Chandigarh
Political Career:
Mrs Sushma Swaraj began her political career with the Akhil Bharatiya Vidyarthi Parishad in the 1970s. She became a member of the Haryana Legislative Assembly and a Cabinet Minister in Haryana at the age of 25 in 1977 and held 7 portfolios. She became State President of Janata Party (Haryana) in 1979, when she was 27. She was Education Minister, Haryana in the Bharatiya Janata Party–Lok Dal coalition government during 1987–90.
In April 1990, she was elected as a Member of the Rajya Sabha and remained there until she was elected to the 11th Lok Sabha from South Delhi constituency in 1996. She was Union Cabinet Minister for Information and Broadcasting in the first Atal Bihari Vajpayee Government in 1996. She was re-elected to 12th Lok Sabha from South Delhi Parliamentary constituency for a 2nd term in 1998. In the second Vajpayee Government, she was sworn in as Cabinet Minister for Information and Broadcasting with additional charge of the Ministry of Telecommunications from 19 March to 12 October 1998. She resigned from the Union Cabinet to take over as the first woman Chief Minister of Delhi in October 1998.
She resigned her Assembly seat to return to national politics and was Minister for Information & Broadcasting from September 30, 2000 to January 29, 2003 and Minister of Health & Family Welfare and Parliamentary Affairs from January 2003 until May 2004.
Mrs Swaraj was re-elected to the Rajya Sabha in April 2006 from Madhya Pradesh. She served as the Deputy Leader of BJP in Rajya Sabha till April 2009. She won the 2009 election to the 15th Lok Sabha from the Vidisha Lok Sabha constituency in Madhya Pradesh and became Leader of Opposition in the 15th Lok Sabha on 21 December 2009 and retained this position till May 2014. She has been re-elected to 16th Lok Sabha from Vidisha in 2014.